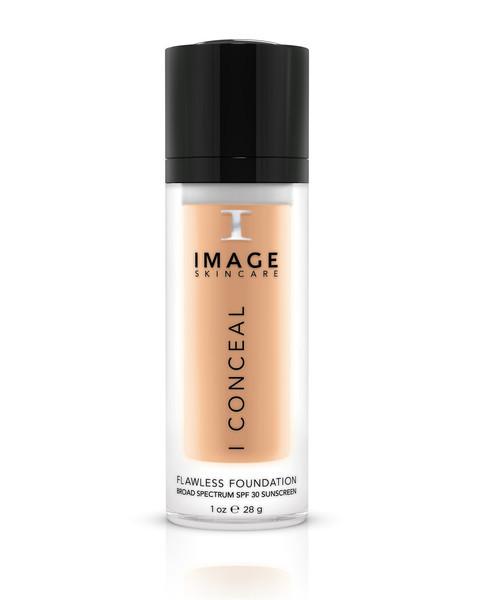 I don't know about you, but I have tried for YEARS to find the perfect foundation. I would usually stick with one brand for a couple months, then switch to something else… only to find myself not wanting to purchase the same product again when it ran out.
So when Image Skincare launched their foundation, ICONCEAL, about three years ago, I was hesitant. Skincare companies usually just do not get foundation the way I want it. Coverage, benefits, not too heavy, long-lasting, etc.  I was a make-up artist before I became an Esthetician, and many of the brands I used had no skincare benefits in their foundation whatsoever. I thought, how could Image possibly create a beneficial skincare product that happens to be a full coverage foundation??
BUT THEY SUCCEEDED.
I Conceal is the only foundation I use on my skin, going on three years now. I break out immediately when I try other foundations. I now know not to mess with perfection, and I stick with Image. This foundation heals wounds (think acne), has stem cells to promote longevity of your OWN skin's cells (think aging slower), peptides to INHIBIT FACIAL MUSCLE CONTRACTIONS (what??? YES please), and anti-shine technology to regulate oil production while soothing and calming your skin. It is made to be used after facial treatments (no more running around make-up free for 24 hours post-facial) including the strongest of chemical peels.
It runs for $60 plus tax. I know, it sounds pricey. But is it, when you think of all the benefits it has?? Most designer brand foundations run from $45-75 and do nothing for your skin. This product is confusingly undersold within the company and I think it is because we, the Estheticians, are not doing our job of informing the clients (you guys) of how GREAT it is! My staff and I are obsessed with it and wear nothing else, and we are of all different ages, skin tones, and skin types.
Stop in SUGAR BAR anytime and ask for a sample of this fantastic foundation. You will not be disappointed!
Ok, Rant Over. 🙂
With love,
Sarah Herbst
Owner of Sugar Bar in Lakewood, Ohio
Feel free to email me with any questions at info@clevelandsugarbar.com