Single Service: $80
Add on to any Facial service: $60
Package Discount: Purchase 6 Services for $330 ($480 Value!)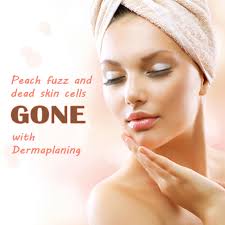 Dermaplaning is a safe and effective exfoliation treatment for facial skin rejuvenation. This procedure is suitable for all skin types and can help to address dry and/or rough skin, acne scars, large or clogged pores, uneven skin tone, and fine lines and wrinkles. Dermaplaning is recommended for those who are looking for a non-invasive and affordable skin rejuvenation treatment that is quick, painless, and has little to no downtime.
Dermaplaning, sometimes referred to as blading, utilizes a surgical scalpel to gently shave the surface of the face. The sterile blade is gently brushed over the skin in light, even motions. This technique eliminates the upper-most layer of dead skin cells, as well as any peach fuzz (vellus hairs) that can trap oil and dirt.