Interested in chemical peels but not sure what to expect? Let us answer your questions!
A series of mild chemical peels—on the face, neck, and/or chest—every few weeks is great for busy people, because they get significant results with minimal downtime. The AHA peels or fruit acid peels, most commonly Glycolic Acid, Citric Acid, and Lactic Acid, can help improve acne scars, skin tone and texture, diminish fine lines and wrinkles, and reduce the effects of sun damage.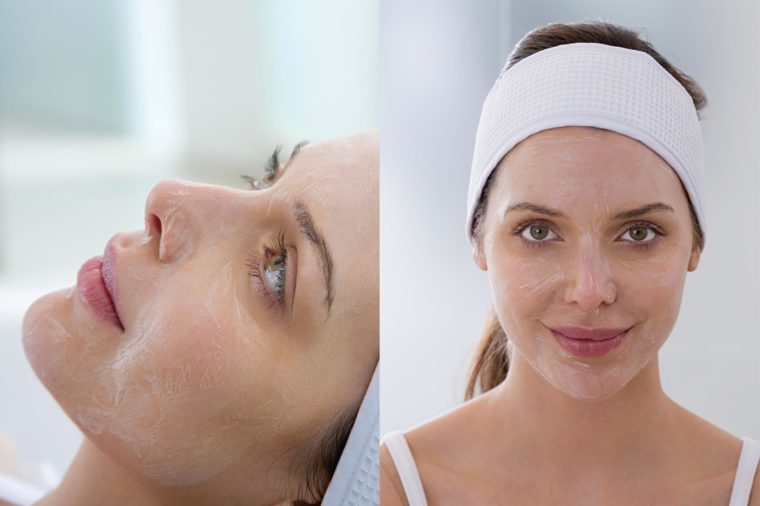 What exactly IS a chemical peel?
A chemical peel is a treatment in which an acid solution is used to remove the damaged outer layers of the skin. In performing chemical peels, physicians apply alpha hydroxy acids (AHA), trichloroacetic acid (TCA), or phenol to the skin. * At Sugar Bar, only AHA & BHA peels are performed. *
How long does the appointment take?
Chemical peel services are booked from 30-45 minutes, depending on the type of peel you are getting. The actual acid solution is on your skin anywhere from 3-10 minutes. Sugar Bar's estheticians are expertly trained to perform chemical peels and will determine what time frame is right for you.
Will I actually "PEEL" afterward?
Because Sugar Bar uses AHA & BHA peels specially formulated from Image Skincare's professional line of chemical peel solutions, there is little to no downtime after each treatment. Skin may be slightly pink or feel warm, but no peeling or flaking will occur. HOWEVER, certain clients may be more sensitive to certain acid solutions- for instance, a client using glycolic acid may never flake at all, but when switching to salicylic, some dryness or flaking may occur. Sugar Bar's estheticians are also able to enhance the results of the peel (and therefore promote visible flaking/peeling) by selecting a stronger formula, applying an Image Skincare ienhance solution afterwards, etc. By talking with your esthetician about the results you want and side effects you do not want, any irritation or downtime can be avoided! The majority of clients NEVER peel from these lighter chemical peels, unless the esthetician is working to make that happen.
If I don't peel, is it still working?
In a word… YES! Visible Peeling or "flaking" after a chemical peel treatment is completely unnecessary to achieve optimal results.
Feel free to email a skincare specialist at info@clevelandsugarbar.com for more in depth questions and to schedule a consultation. We love hearing from our clients and look forward to getting started with your peel routine!